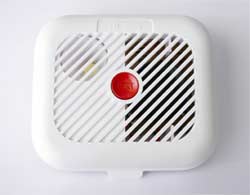 It's estimated that smoke alarms have cut down the number of fire deaths by over 50% in the U.S. alone. That's a pretty strong case for having them in your home, but how do you choose among the dozens of options available?
Smoke alarms come in smoke and fire models or combined with carbon monoxide detectors. They can feature ionizing or photoelectric sensors, or a combination of both. They can be battery-operated or hardwired into your home's electrical system. The one that's best for you depends on your circumstances and personal preferences.
Hardwired vs Battery-Operated
Battery-operated alarms are generally less expensive and easier to install than hardwired systems, but you may be giving up some important protections. In fact, the death rate in home fires with battery-only systems is 2.6 times higher than in homes with hardwired alarms.
Why is that? First and foremost, non-hardwired alarms won't work if the battery is dead or the unit is disabled. If the battery is weak, the alarm may stop sounding before it wakes you or alerts you sufficiently. Make sure to test the alarm monthly and change the batteries annually.
Second, battery-operated alarms don't have a backup, where hardwired alarms generally have a backup battery in them. Of course, that battery has to be checked and changed, too, but at least if the backup battery is dead the alarm still has its primary power source working. Don't worry about losing power in a fire. The electricity will still be on unless the fire has reached disastrous levels.
Most current building codes recommend that new homes have hardwired alarm systems with battery backup, but not all require it. A recent survey found that up to 30% of homes less than five years old had battery-operated systems only.
Standalone or Interconnected
Less expensive battery-operated alarms only sound off at the alarm's location. That can be a problem if the fire is in a garage, basement, or another hard-to-hear area distant from where you are. Hardwired systems and some higher-end battery models can incorporate transmitters that sound other alarms throughout the house, giving you valuable time to react. Safety experts highly recommend interconnected systems.
Photoelectric or Ionizing Sensors
Ionization alarms sound quickest in flaming, fast-moving fires while photoelectric sensors pick up smoldering, smoky fires fastest. Photoelectric sensors are more likely to send an alarm from cooking fumes or steamy bathrooms, too, but given that most home fires are of the smoldering type, the occasional nuisance alarm is better than waiting for an ionizer to detect flames. You can cut down on nuisance alarms by properly venting kitchens and bathrooms and placing the detectors away from the concentration of steam or smoke with the kill button easily accessible. Since both types of fires are potentially fatal, most experts recommend dual-sensor detectors with both types of detectors.
Special Needs
Persons with hearing impairments may not be able to hear or react quickly enough to audible alarms, so special models are available with strobe lights or vibrators in addition to sound alerts.
The pros at Allstar Electrical Services recommend interconnected hardwired dual-sensor smoke and fire alarms for the best protection for you and your family. We're happy to offer a free estimate for the system that will work best for you. We can also do a Residential Electrical Evaluation Audit to identify sources of present and potential issues in your home's electrical service, especially if you're considering remodeling, adding on, or if your home is over 15 years old. Electrical problems are a major source of home fires, so let us help you make sure those smoke alarms stay quiet.
Allstar Electrical Services experts can make sure that your home is safe and up to code. Allstar Electrical has served the Front Range since 2000. Since then, we are proud to have been recognized by the Rocky Mountain Chapter of the Independent Electrical Contractors Association with numerous meritorious service awards, and we recently were honored with a 2013 Super Service Award by Angie's List.
The pros at Allstar Electrical are ready to discuss any of your home's electrical needs. Just give us a call at 303.399.7420 or use our handy on-line forms to request an estimate or set up an appointment. Simply go to our Residential Services page or drop an email to us at estimating@allstarelectrical.com for complete details.